The value of work experience in the dog grooming industry
Becoming a dog groomer is a rewarding career option for anyone who loves being around dogs and wants to make a real difference to the welfare of pets. This is also a great career option if you want to become your own boss and have a flexible work schedule that fits around your life.

Additionally, dog grooming is a growing industry that is hugely under-serviced. The United Kingdom's pet care market is one of the biggest in Europe, with 44% of people claiming to own a pet.This means that there are 9 million dogs in the UK, 60% of which need regular grooming. There's definitely a market for dog grooming businesses!
What is the most challenging thing about dog grooming?
Although working with dogs is ultimately a very rewarding career, it has some challenging aspects to it, much like any other job. If you are more extroverted working on your own can be lonely. The companionship of dogs isn't quite a match for chatting with colleagues about your weekend plans. However, this can be a great opportunity to build rapport with your clients by having a chat with them when they drop off and pick up their pups.
Another challenge is understanding exactly what your customers want. Terms like "short but not too short" pop up frequently, but they have completely subjective meanings to each person. However this can be remedied with simple visual aids, so owners can understand the exact length or look they are asking for, to completely demystify the process.
Lastly, dog grooming is quite a physical job which can be challenging. You often lift heavy dogs which can put strain on your back if not done safely, as well as doing repetitive motions with your hands and arms which can cause soreness. However, the negative effects can be avoided with some preventative measures to help alleviate tiredness and strain.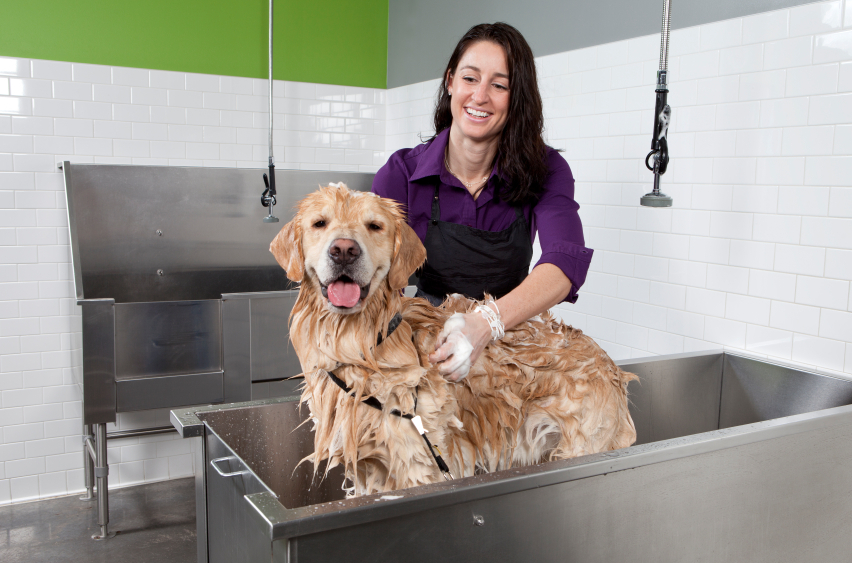 The importance of dog grooming training
With a market that is growing, there are newly qualified, enthusiastic groomers being put out into the industry constantly. It can be intimidating to see fresh ideas and people who are not only qualified with a nationally recognised qualification, but also can demonstrate the skills to be successful within the industry. With the standard being raised, can you afford not to train?
Training is not only necessary to keep ahead of the curve, but to help deepen your understanding of dog breeds and their history. This is essential knowledge as you will have a better understanding of the purpose of different coat types and the different techniques needed to groom them.
Although dog grooming is currently an unregulated industry, meaning no formal dog grooming qualifications are currently required, being fully trained and qualified shows your customers that they are putting their dog in safe hands. This will also show your customers that you have the skills to produce a high standard of results and that you value learning and continued development.
Above all else, dog grooming training is important because it provides you a safe learning environment, to make mistakes and learn from them, with the help of qualified and experienced professionals. This is the best way to gain confidence in your skills and to be able to go out and start your own dog grooming business.
Cementing a career in the dog grooming industry
To solidify the longevity of your dog grooming career, you must make sure you not only have work experience but are fully qualified, as regulations for animal welfare are always developing and you want to be sure that when new regulations are established you are ready to continue your business.
If you lack confidence or would like more work experience after your course you have the option to work in a salon, however you are likely to get experience in less advanced skills this way as salon owners are more inclined to do more intricate grooms themselves.
Once you are qualified, it's important to evaluate areas that you aren't as confident or strong in so you can continue your development and beat the competition. Identifying weaker areas will allow you to pursue workshops and seminars to improve in these areas and specialise in others. New techniques are always emerging and being developed so up-skilling workshops and seminars will help you stay ahead of the curve and make you a top groomer.
Above all else, cementing your career in the dog grooming industry is possible through showing your passion for dogs and their welfare to your customers. Creating a good rapport with your clients by showing you care for their pet will keep them coming back time after time.