Career In Dog Grooming
What are your options?
So you've got qualified as a Level 3 dog groomer through Groomarts Academy. You're now at the stage to run your own business and with our business skills and additional grooming knowledge, you'll stay ahead of the current curve. Is there the need for anything else? Is this enough to keep your business successful?
Learning and innovation go hand in hand. The arrogance of success is to think that what you did yesterday will be sufficient for tomorrow
William Pollard
Specifically for dog groomers, there are several routes that can help you to become a bigger success. Improving your knowledge and skills are vital but what route can you take and where can we help you?
I want to improve my skills as a groomer to give an even better groom for my dogs.
I am happy with my grooming but I want to make sure my business is a success and make the most profit whilst keeping my customers really happy.
I want my customers to have faith in my ability and want the qualifications to show exactly what my talent is compared to others.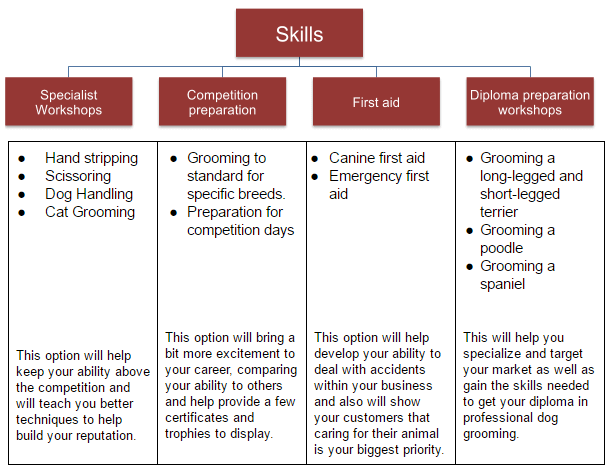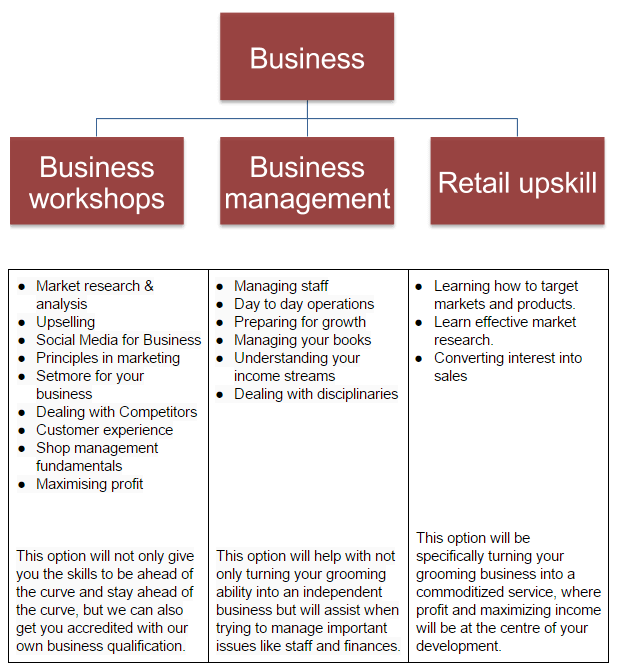 Qualifications
Diploma
Higher Diploma
LCGI (Level 4 PRA award)
AfCGI (Level 5 PRA award)
GCGI (Level 6 PRA award)
MCGI (Level 7 PRA award)
Diploma
Your Diploma can be achieved after you have been through the guided learning hours, which is a minimum of 300 and can style a spaniel, a short-legged terrier, a long-legged terrier or schnauzer and a poodle. You will be assessed with the dogs pre-prepared for your exam, ready for your grooming to be assessed. This runs along the same line as the certificate, graded at Pass, Merit and Distinction.
Higher Diploma
Your Higher Diploma now wants to see a further level of competency. You will be expected to now groom to a very high standard but also show some business and legal knowledge. This requires several assessment of different grooming techniques and also essays to demonstrate your understanding of business management and where you can progress your own learning and standards of dog grooming. The modules taken here directly feed into the LCGI Level 4 PRA award and contribute to the qualification.
LCGI (Level 4 PRA award)
With the previous accreditation system, the LCGI was the highest recognition of ability with the grooming industry. It not only highlights exceptional grooming skills but also shows some level of competency in terms of salon operations.
AfCGI (Level 5 PRA award)
This is a further step of expertise from a business perspective. You are now expected to not only groom to an exceptional standard but also to manage a salon effectively, including taking into account customer service, longevity of success, adapting to change and managing resources, including looking for pioneering innovation within the industry.
GCGI (Level 6 PRA award)
Being a leader, not only within your business but also to be responsible for high standards and innovation within your industry. Be able to adapt to and lead change within your business and further afield for the medium term future. Have excellent customer skills and groom exceptionally.
MCGI (Level 7 PRA award)
This is the highest status that can be given in recognition of professional achievements by City and Guilds. This would show a real customer lead focus to your business, adapting to new technology and knowledge and continually looking to improve and help those around you. You would be involved in creating long term plans to sculpt a future for no only your business but for it to impact the industry as well.