Recommended Jobs for Dog Lovers
Top 10 recommended jobs for dog lovers
Combining a career with your love for dogs may be easier than you think. As man's best friend, there are more than a few exciting jobs with dogs that are also rewarding and challenging. If you're looking for a career change that'll be rewarding and give you plenty of opportunities to work with a range of different breeds, we've got just the list you've been looking for.

If the saying 'never work with animals' hasn't put you off searching for job working with dogs, you can count yourself as a true dog lover. You may still be in need of some inspiration, so our list of top ten jobs which involve working with dogs could put you on the right track for a fulfilling career that you'll adore.
1. Vet
When you think of working with animals, a veterinarian is probably at the top of your list of professions. You'll need to knuckle down with studying for five years or longer if you want to give your qualifications an extra boost.
As a vet, you will face lots of challenges; after all a dog won't be able to tell you what's wrong, but you'll be helping lots of dogs (and other animals) stay happy and healthy, which makes this job incredibly rewarding.
If you don't think a vet role is quite right for you, there are plenty of other positions available at veterinarians across the country, including working as a technician or nurse.
2. Dog sitter
Busy lives and travel mean that not all families can give their canine the attention they need and deserve all the time. As a dog sitter, this is where you step in to help.
Whether you provide some care each day during long working hours or take complete responsibility when the owners head off on holiday, as a dog sitter you'll get to experience all the best parts of owning a dog. You'll get to indulge your love for pups and completely spoil the ones you're looking after - what's not to love?
3. Dog walker
If dog sitting sounds great but you prefer the active life, consider dog walking instead. Large dog breeds require lots of exercise and this will include a long walk at least once or twice a day.
If you're looking for careers with dogs and want to keep fit, a dog walker could be just the role you've been looking for. You can walk several dogs at a time if you build up your client list- meaning it can be a well-paid profession. It's a great way to explore your local area in some excellent company too.
Be warned though, you'll have to get out there come rain or shine as your customers won't mind getting wet!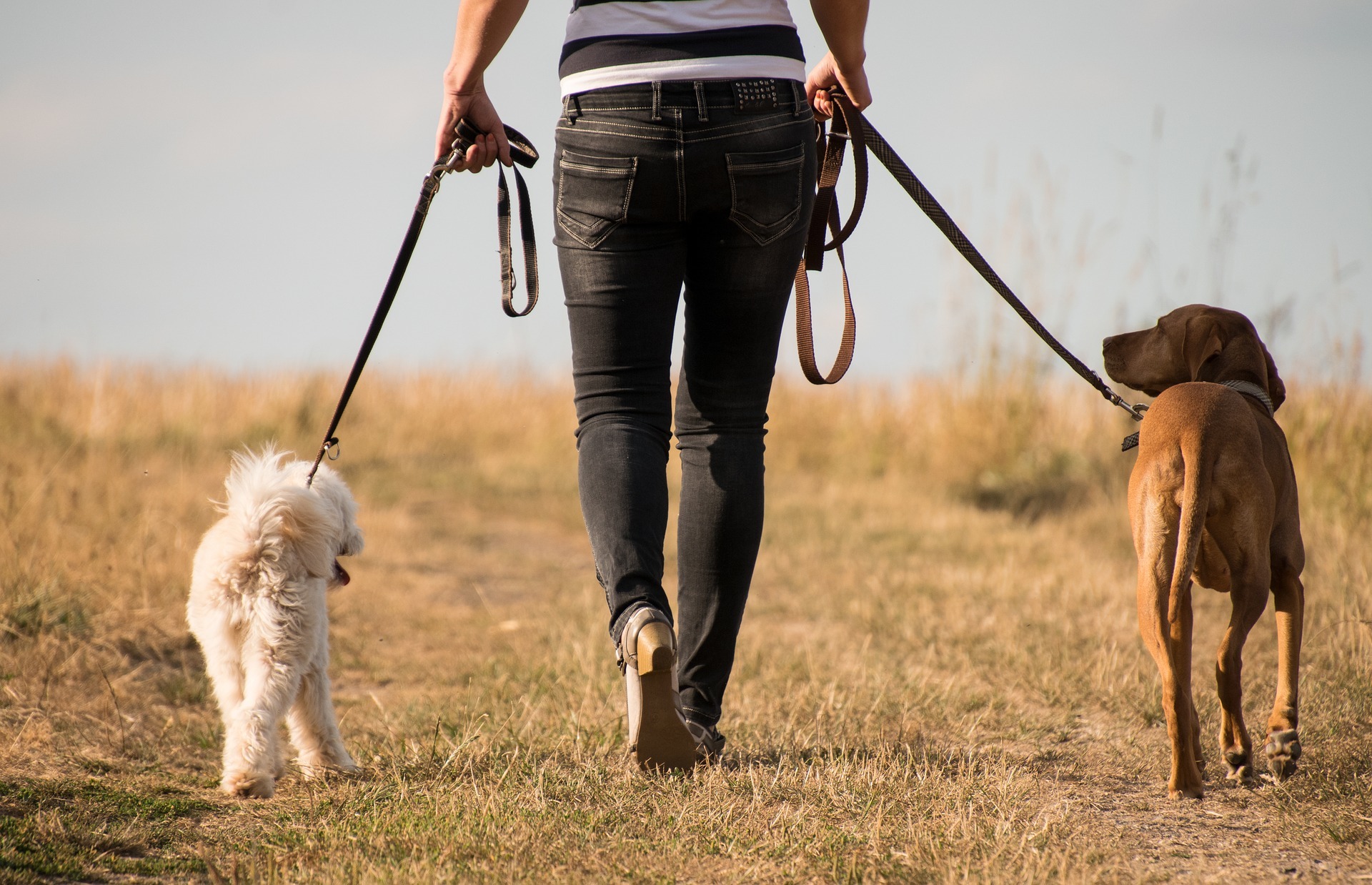 4. Dog trainer

For this profession, you will need a genuine passion for dogs, plenty of patience and a strong understanding of dog behaviour. If you tick all those boxes, working as a dog trainer is challenging, rewarding and provides lots of scope for development.
There's lots of room to specialise here, from working with families who have just received their new family member to get the basic commands down through to training dogs for acting roles. You don't need to go to college for this position either, as learning on the job as you shadow someone is the best way forward. Be prepared to encounter dogs of all breeds and personalities and even a few tricky customers that simply don't want to sit.
5. Police or military
Within the police and military, dogs have an important role to play and once you're in the force, you could choose to train as a specialist dog handler.
From sniffing out drugs and other hazardous materials to operating on search and rescue missions, there isn't just one type of work you're limited to either.
If you've already got a passion for protecting and serving and are also tempted by careers helping people, it's the perfect way to blend two loves.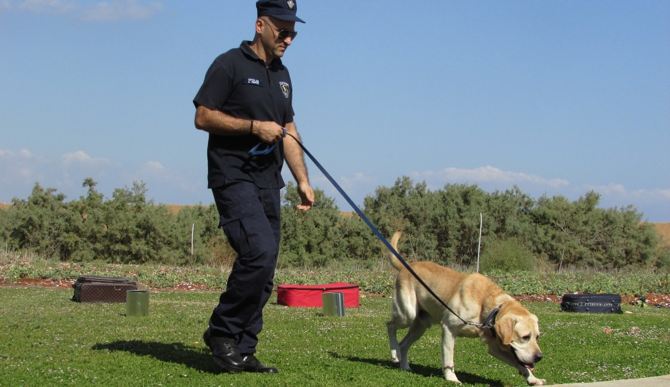 6. Animal behaviourist
Animal behaviourists work to discover what influences certain types of behaviour in animals so if you're looking for careers with animals or jobs that work with dogs, this one ticks both boxes. You'll need to work to get a postgraduate degree – it is one of the high paying jobs with animals after all - but from there you can specialise in dog behaviour and learn more than you thought possible about the species.
You'll often be responsible for understanding and correcting negative behaviour and working closely with families so it's also a good option if you're searching for careers involving helping others.
In this role you'll get to meet more than a few different breeds, all with their own unique personalities and problems and you'll play a part in their development.
A career as an animal behaviourist lets you work with animals and has masses of variety and contact with dogs built in.
7. Service dog training
Service dogs are incredibly intelligent and loveable. From those that help the blind to those supporting wheelchair users, service dogs can transform lives and have a hugely positive impact on the families they live with.
You can be part of that too by working with the training programmes that provide service dogs to those in need. This is one of the most rewarding careers in dog training, with the potential to make a huge difference to the lives of others.
There are a number of ways you can start this career with dogs, including looking after the dogs when they're puppies, training them to complete certain tasks, or teaching dogs and their companions how to interact with each other to get the most out of their relationship.
8. Dog groomer / Pet Stylist
Dogs deserved to be pampered and that's just what you'll be doing as a dog groomer. People are spoiling their pets more than ever before so there is definitely a growing market for this career.
From standard groomers that offer nail clipping services, trims and a quick wash to the more extravagant salons delivering dog massages and pedicures, you'll spend your days around dogs.
While it may not always be simple, as there will always be that dog that hates water or just cannot sit still while you attempt the latest dog hairstyle, we promise it'll be fun!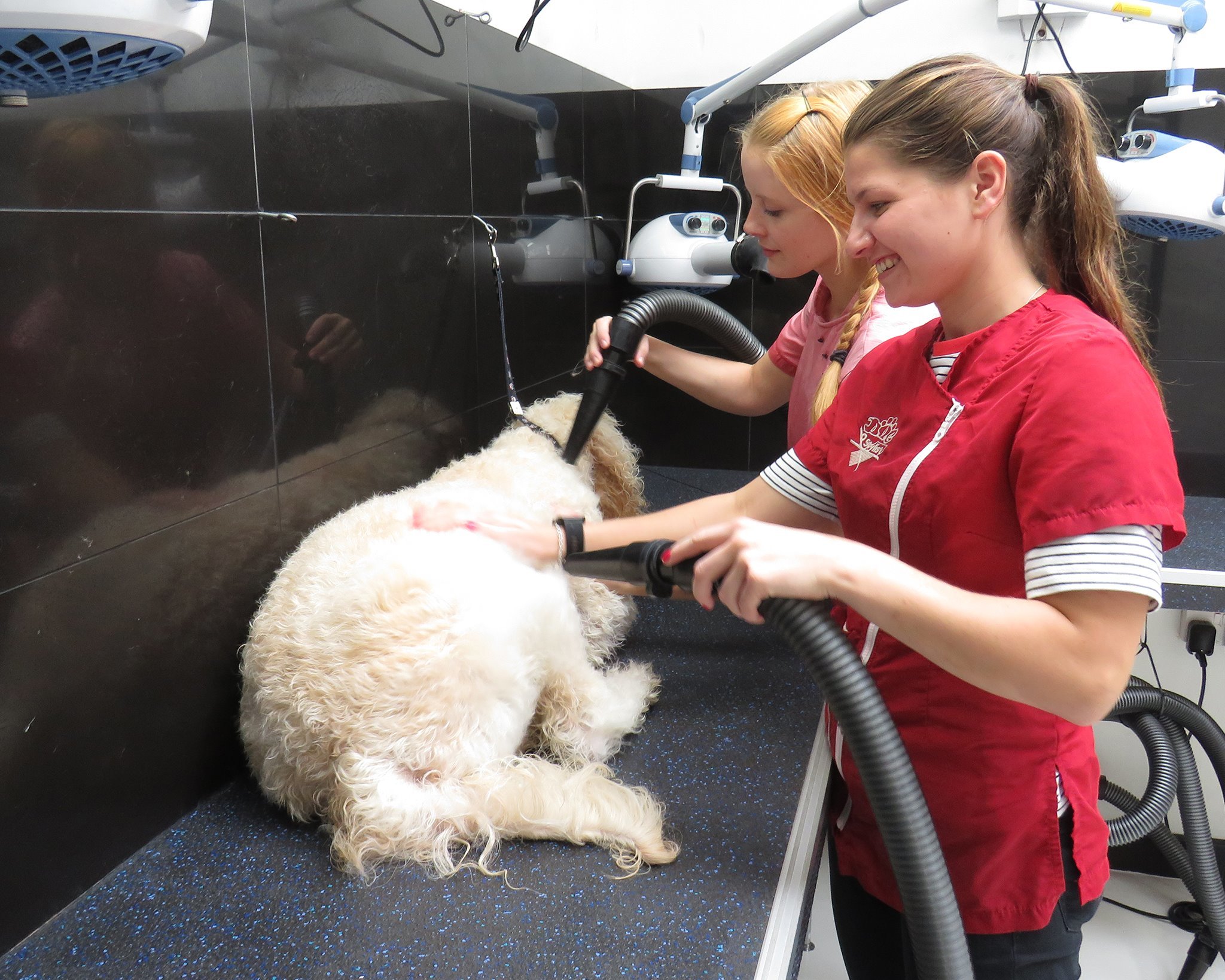 9. Photographer
Dogs are members of the family and the number of people choosing to get their furry friend professionally snapped confirms this. The internet is filled with expertly taken action shots, newborn photographs and comical poses of dogs. If you're creative, this has the potential to be one of most fun jobs you'll ever try.
Combining a passion for photography with dogs guarantees that no two days will ever be the same. You'll need to be able to effectively work with both dogs and their owners, coaxing them into positions that will make the best photos. There are even photographers that specialise in certain types of dog photography, so you can carve out your own niche in the market.
10. Therapy dog handler
When you're feeling down or ill, a quick cuddle with a puppy can be just what the doctor ordered. Therapy dogs are becoming increasingly popular and are helping people with a huge range of conditions and problems.
As a therapy dog handler, your job would be to train, look after and take the dogs out so they can get their job done. You'll certainly brighten up people's days working as a therapy dog handler and you'll get to spend all day working around different pooches too.
Of course, you're not just limited to these ten positions if you're interested in jobs for dog lovers, as there are plenty of other options too. How about creating your own doggy product? Or working on creating delicious food flavours that pups will love? The options are almost endless!