About Us & Our Standards
GroomArts Academy is the UK's leading training school for dog grooming qualifications. As a result, we're always on the look out for dog models for our students to progress in their training. 
We are striving to raise the standards in the industry and all Academy students are tremendously dedicated to learning from our expert groomers to deliver the best results in the industry. Our internationally recognised team provide detailed instruction and close supervision to ensure that your dog receives the best possible treatment and an immaculate groom every time. For your wire and silky-coated dogs, we have a European hand-stripping specialist to keep your dog's coat looking exactly as it should. 
The Academy is bright, fresh modern and contemporary, with lots of natural light. The facilities are kept immaculately clean and are air conditioned to make sure your dog is in a relaxing environment.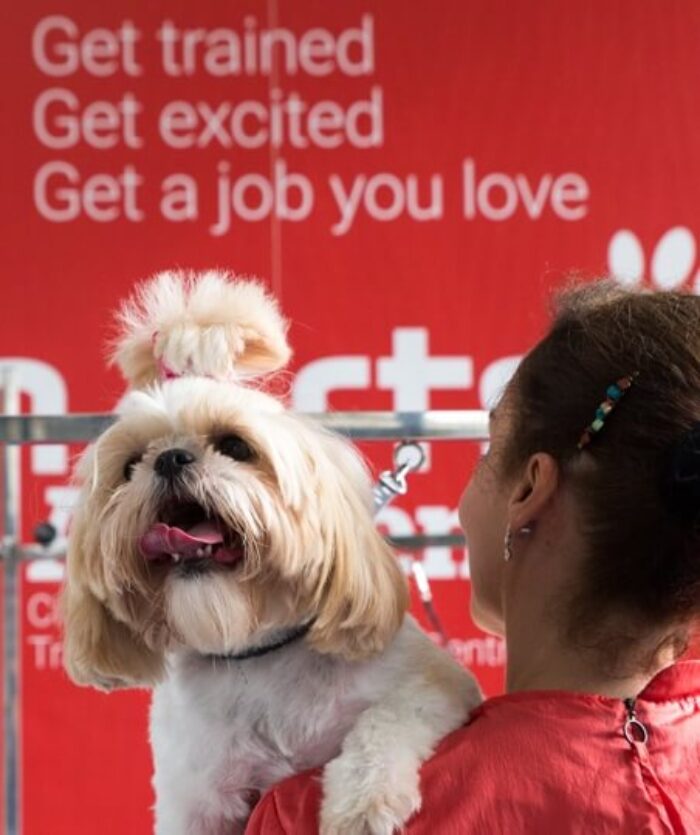 Here is a list of the services we can offer:
Full Groom
This includes any of the following depending on the breed and customer requirements
Wash & Blow Dry
This is an essential part of the grooming process and helps to make your dog's coat look amazing and stay healthy
Clipping
This will create a neat consistent finish for your dog, using only the best equipment
Hand Scissoring
For a sculpted, stylish finish and blending lines to create a beautiful look, our experts will help scissor your dog and can recommend styles if you'd like to hear as well
Hand Stripping
From the guidance of our world-renowned expert, we can offer hand stripping of your wire or silky coated dog
Nail Cutting
To keep feet and posture healthy, regular nail clipping is vital. We make sure nails are kept to a healthy length and will advise you on when to have them clipped next to make sure your dog is happy and can move freely
Ear Plucking & Cleaning
If there is too much hair in the inside of a dog's ears, it can trap moisture and possible parasites, which can lead to infection. Having the ears regularly plucked and cleaned really helps prevent this
De-shedding
If your dog is shedding everywhere, whether it's down to a change in season or your dog just seems to enjoy letting you find their hairs, reduce the amount you'll find in the home by having us remove the dead hairs
Anal Gland Expression
Neutered dogs can have issues with compacted anal glands, as they don't mark their territory in the same way anymore. This can be incredibly uncomfortable and lead to infections. Anal gland expression is completed by highly trained professionals and allows your dog to walk around much more freely
Additional services
Flea Treatment
If a dog comes in with fleas, we are happy to explain future treatment for your dog and importantly, can use flea shampoo and flea powder to prevent the spread of infection and skin conditions and discomfort for your dog. This is at a cost of £10 In severe cases, we would advise on veterinary treatment.
Teeth Descaling
This is only ever completed by our qualified professionals and helps to remove plaque and tartar from your dog's mouth. This prevents infection and keeps a fresh breath. This is at a cost of £10 and in severe cases, we would advise veterinary treatment.
Preparing for Show
Whether a groomer or having a dog needing to look immaculate, we will help prepare you for show.
Our Fees
Bread of Dog
Price

Toy/X-Small dog

£20-23

(Shih Tzu, Yorkshire Terrier, Toy poodle, Miniature Schnauzer, Pomeranian, Chihuahua, Border Terrier - clip) wrt

Small dog

£23-25

(Bichon Frise, Westie, Miniature Schnauzer, Cavalier King Charles Spaniel, Lhasa Apso, Cavapoo)

Medium dog

£25-30

(Cockapoo, Springer Spaniel, Cocker Spaniel, Border Collie)

Large dog

£35-38

(Golden Doodle, Labradoodle, Rough Collie, Samoyed, German Shepherd)

X-Large dog

£40-43

(Newfoundland, St Bernard, Bernese Mountain Dog)

Additional Services
Book now, prices from
£20
Book now and call us on
01727 826 590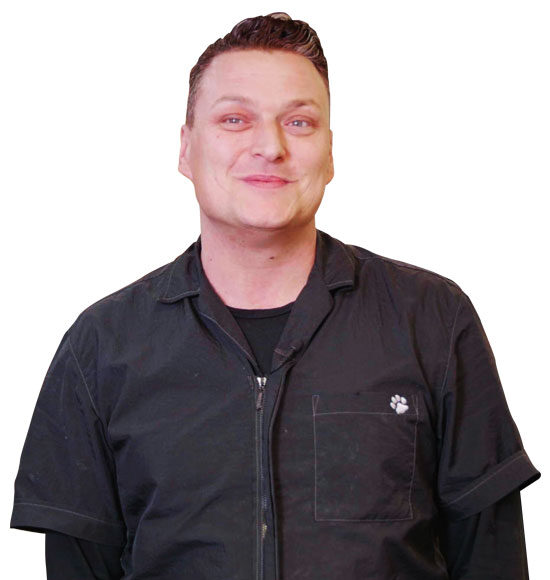 Terence's story
After completing my course I was already fully booked with appointments for my first two weeks of business so literally hit the ground running straight away and it took off!
Read Terence's story