Dog grooming legislation in the UK
Everything you need to know
When you are looking to open your own dog grooming business there are a lot of factors to think about, from registering your business with Companies House through to choosing all of your equipment! One of the most important things is to consider any dog grooming legislation that applies to your business, to ensure that your business avoids any pricey legal fees or fines. Take a look at the legislation that applies to every dog grooming business.
What licenses does a dog grooming business need?
There are no specific licences that apply to pet grooming establishments. However, as with most businesses there are relevant legislations to be aware of - especially since you will be working with animals.
Although, be aware that if you use copyright music in your business, even just background music from a radio in your salon or mobile van, then you will need a Music Licence from PPL PRS, which can be purchased online.
Animal welfare legislation
The Animal Welfare Act brings together and modernises previous welfare legislation and ensures greater protection for all animals under human care or supervision in England and Wales, which means that you will be responsible for the welfare of any animals you groom while they are in your care.
Be aware that careless pet groomers have in the past faced criminal prosecution for acts of negligence and cruelty involving incidents such as burns to animals caused by incorrectly used dryers and other equipment. Therefore being aware of the Animal Welfare Act and taking steps to minimise any risk is of utmost importance to your dog grooming business.
Hazardous substances
As you may be using chemicals that are potentially harmful, you should be aware of the Control of Substances Hazardous to Health (COSHH) regulations. COSHH is important in order to protect yourself and your staff from harm as even mild substances like shampoos and sprays can cause skin issues if used often without protective equipment!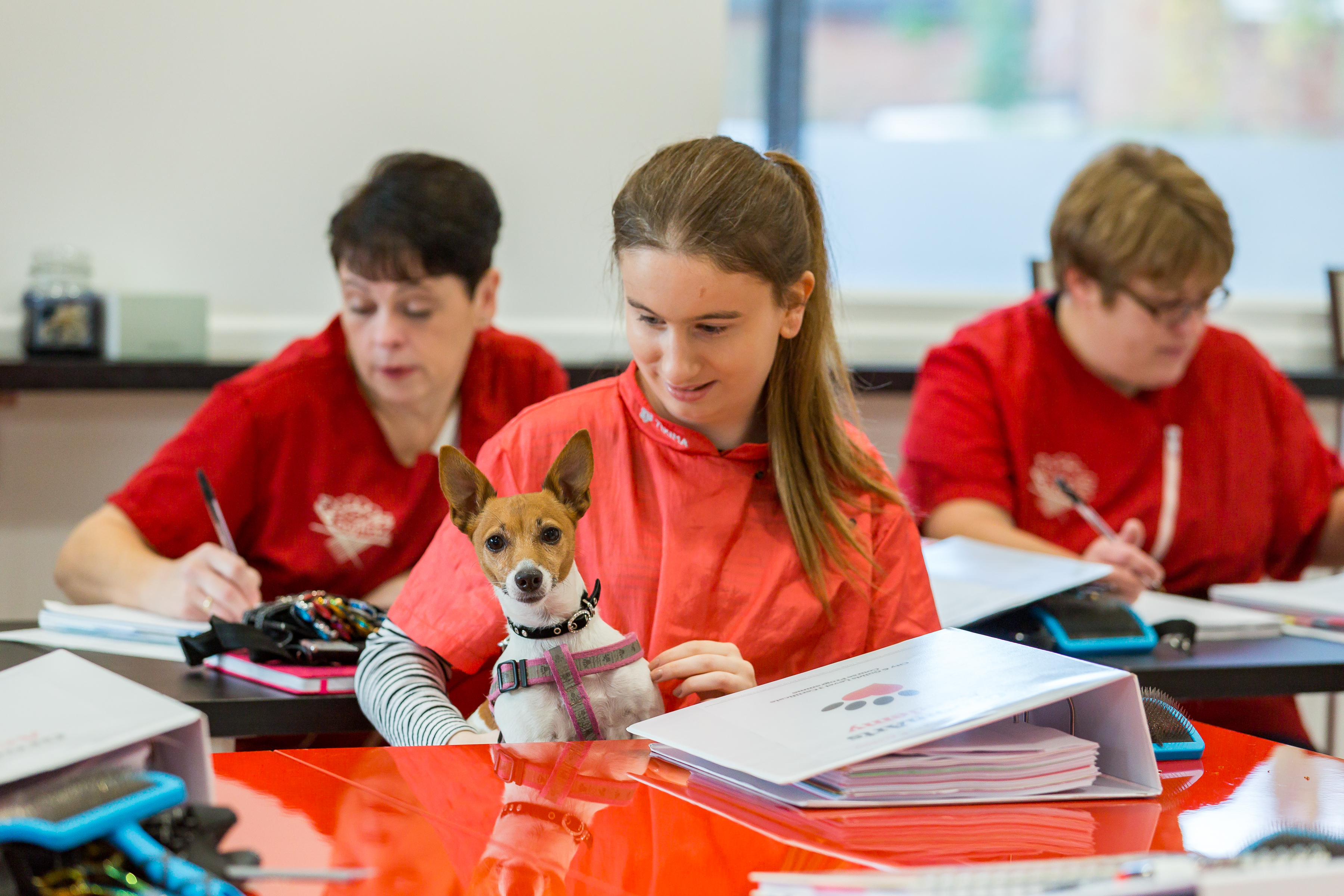 Ensure your business has dog grooming insurance
Insurance is essential for any business but especially when dealing with pets because of the strong bond between owner and pet. If something were to go wrong, there can be considerable anger and hurt on the owner's part which can easily turn into legal action. To make sure your brand new business is protected from any incidents you need to make sure you have the right insurance to cover all aspects of your dog grooming business. This might include:
Public liability
Employer liability
Contents insurance
For more information, check out our in-depth guide on dog grooming insurance.
Can you run a dog grooming business from home in the UK?
Yes! If you have sufficient space and a safe environment, it's absolutely possible to run a dog grooming business from the comfort of your own home. Operating from home allows you to save money whilst giving you more flexibility over hours. However, this option will require more of a push on marketing to help spread the word of your business.
As with any dog grooming business, having the right insurance is a necessity. Take your time to research each available type of insurance, making sure that you're fully covered if anything were to go wrong. If you're choosing to set up your salon from home, building insurance is super important. This will cover the cost of any repairs to the physical structure of a building in the event of a fire, flooding or theft.
How do I start a dog grooming business?
Once you have considered all the relevant legislation to safeguard yourself, your clients and your business, it's time to start properly setting up your new dog grooming business. One of the main choices is what type of business do you actually want? Consider the pros and cons of each type before making that final decision.
Do you like the idea of being on the move and taking your business to your client's doorstep? Having a dog grooming van might be the perfect choice for you. Being truly portable means that your client base can be as large as you want it to be, however you need to consider things like traffic and fuel costs for this business type.
Do you like the idea of starting small and keeping things comfortable and setting up in your own home? Working from home means you can work the hours that you want but importantly, you would need to renovate your living space and remember that your market would only be open to those that can travel to you.
Do you feel the desire to have your own salon and make your mark with a brand that can take over the world? Setting up a high street salon is generally the most expensive but also the most profitable business option. Even if you're not planning on global domination, knowing your options is key. There are definite benefits and drawbacks to each one, so take a look at the options of each one to help guide you on the path that's right for you. For more information on business setup essentials, such as what to charge and equipment costs, check our business advice page here.