City & Guilds Level 3 ntensive Diploma in Dog Grooming
This course is designed for those that are truly serious about setting up their own dog grooming business but do not yet have the experience of already having the City and Guilds Level 2 qualification. This replaces the 7763-03 Certificate/Diploma for Introductory Dog Grooming and includes the Level 2 qualification for Dog Grooming Assistants. With the right level of commitment, you are able to achieve a high professional standard, not only in your theory and customer service, but also with the quality of your grooming.
The course structure is based on a holistic approach, where you are assessed through a synoptic assignment during the course. This looks to combine all of your knowledge learnt during the course through both the practical skills and also the theory, which is taught both on site and through e-learning.

You are assessed on your practical skills, ensuring that you can maintain the health and safety of the animals and staff, plus also produce a fantastic groom and show the basics of understanding how a salon can be run. In addition to the synoptic assignment, you have one written assessment that will occur at two points during the year, allowing you to achieve your City and Guilds Level 3 Diploma in Dog Grooming.
This is a very intensive programme to deliver the best commercial results, so you must be over 18, be commercially focused and determined to succeed.

To ensure that you are well supported throughout, you will have access to revision material, supporting content and regular involvement from GroomArts Academy to help you be very successful in your City and Guilds written assessment and also moving forward and having a happy and professional business.
What the course entails
This course is for those who are passionate about pets, serious about changing career or wanting to start a new business. Our award-winning tutors will guide you and build your knowledge, skills and confidence throughout your course.
This is a very intensive programme to deliver the best commercial results, so you must be commercially focused and determined to succeed. You are required to book a minimum of one month in advance to give you sufficient time to access relevant material before you start the course.
During the course you will sit a series of practical and theory assessments as part of your City & Guilds modules that count to your qualification. Your work will also be photographed and will be included in your portfolio of work.
What you'll get
Comprehensive GroomArts Academy training manual
Theory of 5 book by Melissa Verplanck to help with your shaping and styling
The Grooming Manual by Sue Dallas (electronic study version)
A City & Guilds Level 2 Certificate
A professional GroomArts Academy certificate
A City & Guilds Level 3 Diploma Certificate
A personal learning folder
Duration
City & Guilds requires 300-guided learning hours to complete the training. This will consist of 4 consecutive weeks from Monday to Friday of on-site practical learning. This is to ensure you're commercially capable.

We also include tailored e-learning modules, to not only make you a highly capable groomer, but also ensure that your knowledge meets your grooming standards. The online learning is mandatory, as this time is logged and is essential in you achieving your overall City and Guilds Level 3 Diploma.
What you'll need to bring
- Flat soled, comfortable shoes

- Relaxed and comfortable clothes
- A notebook and pen
What you'll need to buy
Scissors - Choosing the right pair of scissors when you start your grooming career can be confusing. At GroomArts Academy, we believe that it is important to start your career with a solid and professional foundation. This is the reason why we do not offer cheap scissors as part of a start-up pack. Students should buy the best tools they can afford because they will produce great results and will last much longer.
Take a sneak peak behind the scenes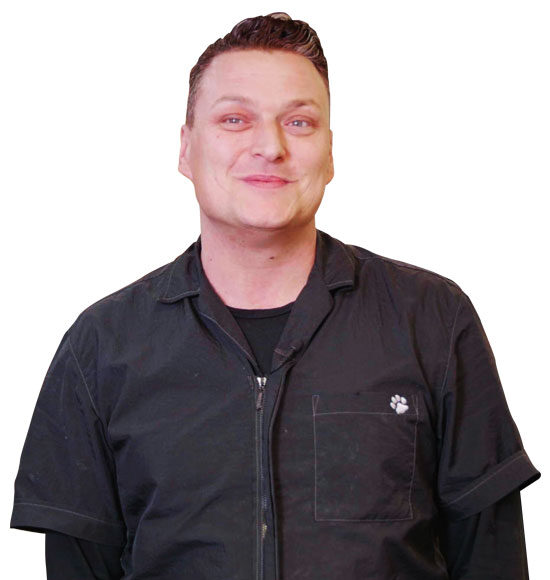 Terence's story
After completing my course I was already fully booked with appointments for my first two weeks of business so literally hit the ground running straight away and it took off!
Read Terence's story
Emma's Award Winning Level 3 Story
What can I charge for grooming?
Discover how to set your prices for grooming when you start your business.

Start Here
What can I earn as a new professional groomer?
So you've decided to take the plunge, that's great, but you need to make money.
Make money
2019

Date
Availability
Book

Monday 2nd September - Fri Sep 27th

Fully Booked

Fully Booked

Monday 30th September - Fri Oct 25th

Fully Booked

Fully Booked

Monday 28th October - Fri Nov 22nd

Fully Booked

Fully Booked

Monday 25th November - Fri Dec 20th

Limited Spaces

Limited Spaces

Book Now

2020

Date
Availability
Book

Monday 6th January - Fri Jan 31st

Limited Spaces

Limited Spaces

Book Now

Monday 3rd February - Fri Feb 28th

Spaces Available

Spaces Available

Book Now

Monday 2nd March - Fri Mar 27th

Spaces Available

Spaces Available

Book Now

Monday 30th March - Fri Apr 24th

Spaces Available

Spaces Available

Book Now