One Day Professional Dog Grooming Course
Fees refunded if Level 3 Diploma is booked within 6 months
This course is ideal for anyone considering a career in dog grooming and wants to be sure they're making the right decision. It's designed to give students an overview of pet styling and an insight into the world of a professional stylist. It's a great way to experience what life would be like as a dog groomer.
Please note: this course is not suitable for those who only want to learn how to groom their own dogs.

What you'll learn on your one day dog grooming course
General introduction to dog grooming and why it's important
An overview of the different types of coats
Bathing: what products you use, why you use them and what techniques are used
Drying and brushing techniques
Understanding nails and clipping
Hygienic cleaning: the importance of anal gland expression, ear cleaning and teeth cleaning
Introduction to grooming equipment
Demonstration of shaping techniques using clippers and scissors
Frequently Asked Questions about the 1 Day Dog Grooming Course
How long is it?
On a Saturday from 10am – 4pm approximately
How does the day run?
We cover the basics of tools and equipment in the first part of the day, and then in the afternoon you'll have a dog to work on!
What will I learn?
Washing, bathing and some basic clipping. We also cover ear hair removal and cutting nails
Is this course suitable if I just want to learn how to groom my own dog?
No, this course is designed for people looking to change careers to give them an idea of life as a dog groomer
What are my options after the day?
You can continue your studies with us to become a professional dog groomer – we're happy to go through personalised options with you on the day
Do you run any promotions?
Yes! If you sign up for a Level 3 course on the day of your 1 Day Introduction we will offset the cost of your Introduction against your course fees
What to bring to the grooming course
Flat soled, comfortable shoes
Relaxed and comfortable clothes
A notebook and pen
Dog grooming equipment
You are not required to bring anything with you as all professional equipment and protective clothing will be supplied.
Student reviews of GroomArts Academy's one day course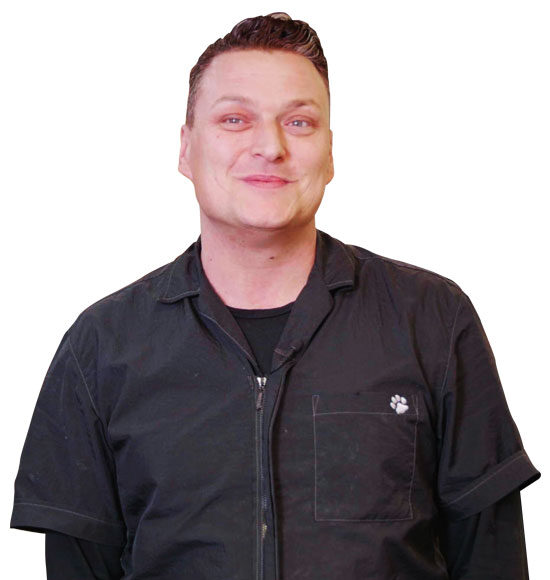 Terence's story
After completing my course I was already fully booked with appointments for my first two weeks of business so literally hit the ground running straight away and it took off!
Read Terence's story