How to use a dog nail grinder
GroomArts Review and recommendations
Dog nail grinders: What you need to know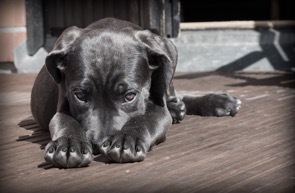 There all kinds of questions you may be asking yourself when it comes to dog grooming, in particular when you are considering how to care for your dog's claws.
Should you choose battery operated dog nail clippers, a pet nail file or a dog nail grinder? Ultimately, you won't know until you try all the options available. There's no one size fits all approach, as every dog is different. You might have two greyhounds that love the sound and feel of a nail buffer for dogs, and a chusky who prefers the clippers, or a dachshund that adores the attention no matter what you use.
Some dogs hate having their nails cut, getting so wriggly that they might hurt themselves on the sharp edge of the scissors you're using. It can be distressing for both you and your dog, especially as you know that they trust you and you accidentally hurt them.
Rather than resigning yourself to asking 'Can I use a nail file on my dog?' or letting your dog's nails grow so long they tear holes in fabric and skin, consider using a dog nail grinder rather than scissors or electric dog nail clippers. Nail grinders are inexpensive, easy to find online or in stores and great for nervous dogs or wriggling puppies.
Tips for using a dog nail grinder

Grinding your dog's nails is fairly easy. No matter which brand you choose – from Dremel, Conair, Pedipaws and Oster, to name a few, there are some simple rules to follow to make sure both you and your dog remain safe:
Grinders spin fast, using their speed and abrasive material to buff dog nails shorter without any jagged edges. If your dog has long fur, make sure it's out of the way by holding it back or trimming it, especially if it's on their paws or in between the pads of their feet. If the fur gets caught in the grinder, your dog will be hurt and it will be hard to untangle the fur without pulling further
Try to have someone else with you to help. Your dog may dislike the heat of the battery nail filer on their nails and may be alarmed by the noise or even smell of the nail sander. It's hard to grind a dog's claws down so much that you cut down to the nail quick, or the live part of skin that grows the nail, but it can happen. Having someone around will make sure the two of you have a secure hold on your dog and won't grind down too close to the nail bed
Don't get hold of your nail grinder and immediately aim to start grinding your dog's nails the second you get home. The act of putting something close to the nail may frighten your dog, so allow them to become used to the sensation of the vibrating head of the nail smoother against their body in short bursts before trying to trim all their nails.
You can get a smooth tip instead of a sharp edge that many trimmers leave behind and the main barrier is getting your dog used to the feeling of a nail grinder against their nail. Once your dog is used to the vibrations, sound and heat and you've found the right grit sanding band for the two of you, it will be easy to trim your dog's nails painlessly and in a stress-free way.
It's impossible to say if an animal nail grinder will be a hit with your dog. However, if you're worried about the proper way to cut your dog's claws and have found that scissors send your pup into a panic, it's worth a shot. You run much less chance of accidentally cutting down to the quick, even if your dog has black nails, so it could be the start of a harmonious new routine for the both of you.