How to choose the best dog grooming scissors
How to choose the best grooming scissors for you
Dog grooming can be an expensive part of being a dog owner and the thought of leaving their four legged family member in a dog groomer's hands involves a lot of trust. It does take time but it is a perfect opportunity to bond with your customer's dog and with the right training and the right equipment, can leave you with lifelong customers who will recommend your services to their friends and leave you feeling proud of your professional finish.
After you have had a look at your training options and making sure you are on the right path to setting the highest professional standards, the next step is to understand what essential equipment you need.
When planning to groom any of your customer's dogs, dedicated equipment becomes essential, and the cornerstone of your dog grooming kit will be the dog grooming scissors. From premium scissors such as the Kenchii grooming shears all the way down to everyday affordable thinners.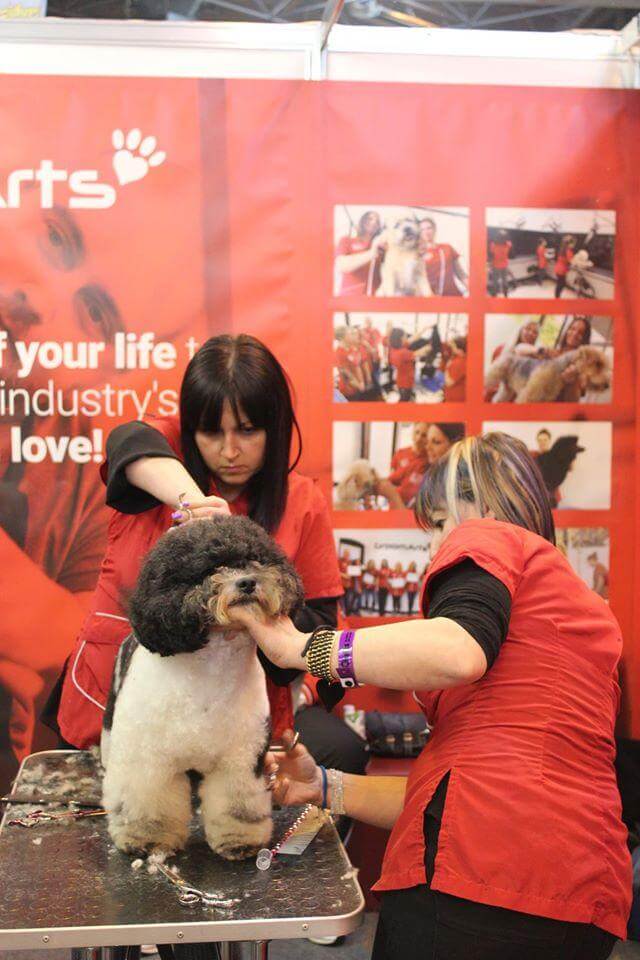 We are going to go through the different types of professional dog grooming scissors and blades, so you can trim and cut and style every customer's beloved pooch to look fantastic. This means guidance to allow you to deliver a safe, stylish and accurate groom!

The Structure of Dog Grooming Scissors

Grooming scissors must be ergonomic for you to hold them in various positions for sometimes very long periods, they must be sharp enough to cut without defects, and obviously, they have to be designed with safety first as dogs can move by surprise or when a sensitive area is touched.

Stainless steel remains the most durable and most affordable material for scissors and clippers' blades. There are fancy new materials and alloys but stainless steel has been around forever and is on top of the cutting edge game, still.

Some people do want to have a finger rest on their scissors but in the end, if you are not using your scissors for hours every day, you may not really need it.

Lastly, if you have different dogs and want to groom them all, make sure each pair of scissors is adapted to their coat. Some have a rough coarse coat and require sharper scissors, other breeds have thin and a lot of volume in their hair which asks for thinning rather than cutting. See our information on the best thinning scissors and also the difference between thinners and chunking scissors.

Buying the right straight and curved scissors

Does the brand matter? When buying the right scissors, it is important that you buy the right grooming scissors from day one, but there is more to this than the model. Oster, Kenchii, Roseline or KR are all reputable brands and this does have some impact, but there is a secret to making sure you can be happy that you are producing the best dog grooming service that you can.

The secret to getting the right initial pair of straight or curved scissors is the grading. Scissors do come in different lengths, which vary in weight. This is designed to give more or less control to the groomer and is more suitable for different sizes of dogs, but the number associated with the scissor is where it really counts.

Buying the right scissors for you - sharpness

Straight scissors, grade 1:

These are great for absolute beginners and tend to be less sharp than the higher grades. They are generally cheap and great for starting out but be aware that they will need regularly sharpening and will need replacing after a few months for a higher grade.

 

Straight scissors grade 2:

These are the next step up and are slightly sharper. These are still part of the value range but allow you to show slightly greater style.

 

Straight scissors grade 3:

These are for people who want to set the highest standards and produce very high quality grooms. Laura Campanella recommends that you use level 3 graded scissors, as they can last for a few years with the right sharpening and training.

 

Straight scissors grade 4:

These are for the elite stylists who are primarily focused on performance and design. They aren't for your ultra-matted, hard to handle and difficult dogs but are fantastic for competition and for the experienced groomer that wants to produce an immaculate style.

 

Straight scissors grade 5:

These scissors are so sharp that if you look at them you can get a cut!!! These are for the highly experience and skilled groomer that allows you to create an incredible shape. They are generally custom designed for you and will be made specifically to help you produce the highest competition standard results with the right training.