Helping my dog when they are sprayed by a skunk
What it is and how to treat the infection
Step by step instruction as to what to do when your dog gets sprayed by a skunk
Dogs are naturally inquisitive and a lot of the time their taste for adventure can get them into trouble. If your dog likes to wander around and explore the garden or your local walking spots, you always run the risk of them bumping into another unsuspecting animal. In fact, there are many cases where a nosey dog has found its way to a skunk's home and got themselves sprayed.
Hopefully this never happens to your pooch but it's handy to have a plan in place just in case it ever does. Being prepared for any situation is important if you have a dog because you need to make sure you can keep them healthy and safe whatever happens.
If you've ever smelt skunk spray you'll know how noxious the smell can be and how potent it is. The odour doesn't go away easily so it's important that you fight the urge to immediately bring your pooch inside to wash them off, unless you want your house to smell for weeks after. The skunk spray oil will linger in the air for a long time so you want to eliminate the chance that it will cling to your furniture and upholstery.
What exactly is skunk spray?
The spray from a skunk is a potent mixture of sulphur and other chemicals that are produced from the animal's anal gland. The purpose of the spray is primarily for defence, which means a skunk will open fire when it feels threatened by a potential predator. This is why it's so common for a dog to get sprayed if it approaches on a skunk's home or makes it feel threatened.
Not only does a skunk's spray pack a potent punch, it also has a lot of power and rage behind it. The average skunk can spray its defensive liquid as far as 15 feet, which means that your dog is at risk of being sprayed even if it isn't directly next to a skunk.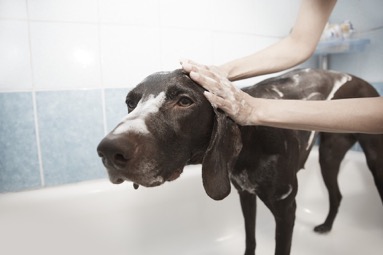 Want to know anything else about the health of your dog? Let us know.